Welcome To Mispriced Markets
I am a private investor who has been joyfully pursuing the fine art of value investing for over 25 years. I have designed this website to be part blog, part investment newsletter and part investor resource. I have no official financial credentials to lend any legitimacy to this project. What I do have, though, is an astonishingly good track record...
Growth of $10,000
If my portfolio had been a mutual fund and someone had invested $10,000 in it in 1996 and hadn't added or taken any money out along the way, they would have seen their money grow to just over $20 million 25 years later.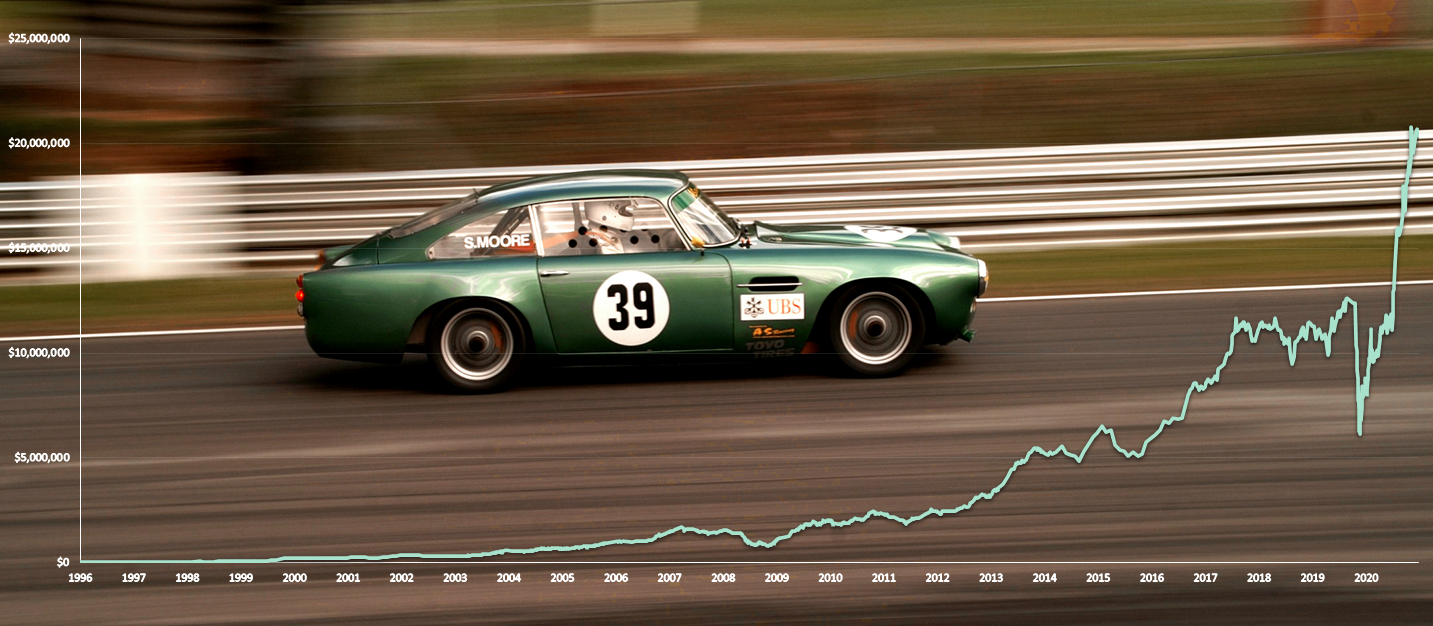 Reality Check
While 35% is certainly a headline grabbing number (which of course is why I led with it!), it is worth noting that this number was pulled higher by some big, early successes. I've continued to produce market beating returns in the years since but not quite to the same degree. To see a full and complete accounting of my journey through the markets, check out the Track Record section of this website.
My goals for this website are to
Edify, Enlighten and Entertain.
Edify
If you are new to investing or are curious to see the approach that I've taken to consistently beat the market over the years, I'd encourage you to check out my series of tutorials, found under Value Investing 101. Here, I explain my core value investing philosophy, lay out the basic framework I follow and dive into the nuts and bolts of how to go about analyzing a new stock.
Enlighten
In the Mispriced Markets Portfolio section, I'll be maintaining a model portfolio of stocks closely based on my own personal holdings. Every time I add a new stock to the portfolio, I'll post an update detailing what the company does and why I chose to buy it. As well, I'll be posting portfolio reviews a couple of times a year where I'll talk about new developments in the marketplace and in the companies that make up the portfolio. Feel free to use any or all of my ideas in your own investing. You can learn more about exactly how this portfolio is constructed and maintained here.
Entertain
The blog section of this website is going to be a wide-ranging exploration of value investing and the markets. Portfolio updates and reviews, investment tutorials, market research and company analysis will all find a home here. This is a pet project of mine and is meant to be fun. If you have any comments, questions, suggestions or just want to chat, please don't hesitate to send me an email at mispricedmarkets@gmail.com. I love hearing from my fellow investors.
Investing has been a lifelong passion of mine. I love the challenge, the excitement, the rewards and even the frustration of it. Hopefully there are others out there who share the same enthusiasm for the markets that I do. If you are one of those people, this blog is for you!
John Cole
mispricedmarkets@gmail.com