An interesting play on the coming 5G revolution unexpectedly shows up on my screens.
Casa Systems – CASA.NASDAQ
November 28, 2019
Share Price: $3.66
Number Of Shares: 84 068 000
Market Cap: $308 million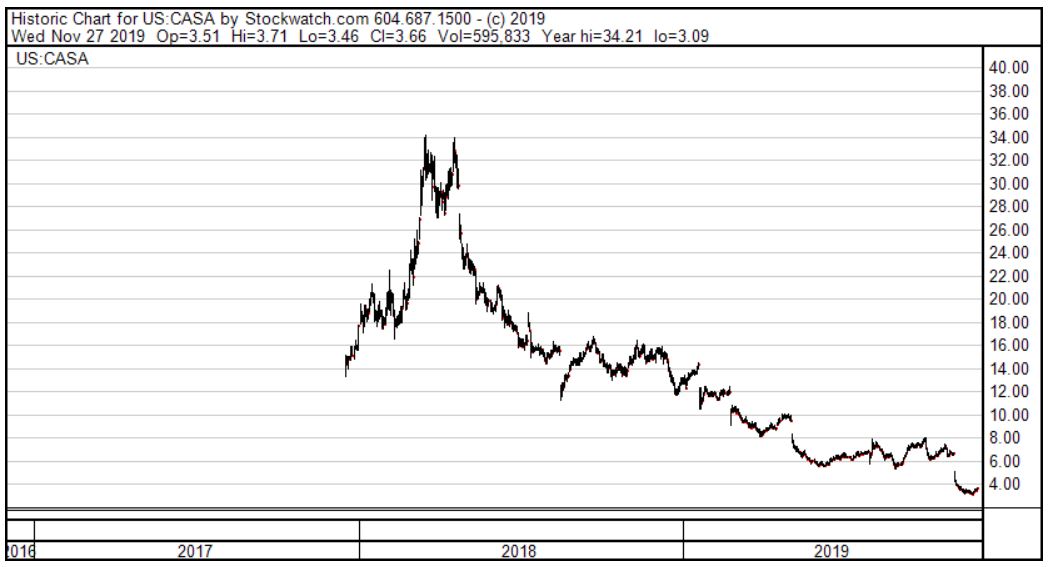 The Age of Transformation
We've been living in an age of incredible transformations. Starting 25 years ago with the rise of the internet, new technologies have been reshaping large swaths of the economy. No industry is safe, it seems, from the relentless disruptive forces of new technology. There have been some incredible success stories and more than a few massive wipe-outs. As a value investor, I've mostly avoided all the excitement. The latest and greatest new thing always seemed to be priced out of my reach. I assumed this would be the case when I started hearing about the newest tech innovation that was going to reshape our society (yet again): 5G.
As the proponents tell it, 5G is going to transform our lives by making internet access blazingly fast and nearly ubiquitous. Cities will be covered by a blanket of wireless signals offering widespread high capacity, high speed internet access that is going to make all sorts of new technologies possible. They call it the internet of things and all our machines, from parking meters to vending machines to all the driverless cars that this technology is going to make possible will be able to chatter away at each other 24 hours a day. Most importantly, it should let us stream Netflix in stunning 4K while our autonomous people pod movers whisk us to work on our daily commute.
As with previous disruptive technologies, there will be fortunes to be made and lost. I can't be sure which side of the coin this investment might land on, but with Casa Systems, I unexpectedly found a front row seat for this latest tech revolution instead of just watching from the sidelines.
I've been pouring over third quarter results recently and after nearly exhausting my usual bag of tricks and coming up empty-handed, I ran a screen looking for potential turnaround candidates. These are companies that have fallen on hard times, but if they were to recover to their previous glory, would look very cheap. I already own a number of these fallen angles and wasn't particularly looking for yet another, but beggars can't be choosers. If this is where I'm finding value, this is where I have to go.
And in this case, this fallen angel offered an added bonus: a possible way to participate in a ground-breaking new technology at a less than nosebleed price.
Casa Systems
Casa Systems is a technology company that has developed a suite of solutions that help telecom companies expand their broadband network capacity and capabilities.
We provide a suite of software-centric infrastructure solutions that allow cable service providers to deliver voice, video and data services over a single platform at multi-gigabit speeds. In addition, we offer solutions for next-generation distributed and virtualized architectures in cable operator, fixed telecom and wireless networks. Our innovative solutions enable customers to cost-effectively and dynamically increase network speed, add bandwidth capacity and new services for consumers and enterprises, reduce network complexity and reduce operating and capital expenditures.
They give the example of a contract they did in New York for Time Warner where their software-centered solution allowed them to triple the maximum speed of the network, reduce its power consumption by 30% and rip out 140 miles of redundant coaxial cable.
The company really started to gain traction in 2013 and IPO'd in 2017 on the back of a string of strong annual results. The company was making around $1 per share in earnings on sales of $300 million or so. The stock debuted at $13 and quickly ran up to over $30 on the back of investor optimism over its future growth prospects. Then the story took a turn for the worse.
After several years of capacity expansion and upgrading, the big cable companies pulled in the reins. They needed time to digest all of the new infrastructure spending they had done to try to fight off the looming threat of fiber to the home. Spending in the industry started to crater and sales at Casa began to fall. From the peak in 2017, sales fell by around 50% and earnings collapsed. The stock price followed suit, plunging by almost 90% to where we find it today, languishing below the $4 mark.
This is what brought the company to my attention. At the current share price, the stock is trading at about 3 ½ times its earnings of a couple of years ago. Granted, the company is losing a modest amount of money at this point, but if one were to assume that the slowdown in spending by the cable industry was only temporary then a recovery to previous levels could rocket the stock right back up again.
Unfortunately, it is likely not going to be quite that easy. There was a big build-out in the industry over the past few years and Casa benefitted from that, but the company admits that this level of spending is unlikely to return. A partial recovery seems to be the more likely scenario. But at a p:pe (price to peak earnings) of 3.5, we don't need a full recovery to see a good payback from our investment; a partial recovery could do the trick just fine.
If this was all there was to the story, I'm not sure it would be enough to get me onboard. After all, the company is expecting to lose around 20 ¢ per share this year. A recovery could take awhile and is not assured. As well, they have a couple of dollars per share in debt. While that would be no big deal if they were still making $1 per share in profit, when they're losing money, that couple hundred million in debt looks a little more intimidating.
A Pivot Towards 5G
However, the story could just be getting started at Casa. This company has always prided itself on its ability to see upcoming industry changes and respond quickly to them with new products and technologies.
We focus our development efforts on innovation and being the first to market with new products at each generational shift in cable network technology. We pioneered the use of a software-centric approach to leverage the programmability of FPGAs and general purpose processors for use in the cable industry. In addition, we believe we were the first to provide each of the following to our customers: a solution enabling cable service providers to deliver IP voice, digital video and data over a single port; a solution enabling cable service providers to deliver multi-gigabit speeds to their subscribers; and a remote node solution to enable distributed broadband cable access at gigabit speeds.
While they started off serving the cable industry, they realized that their platform could be adapted to work equally well with wireless and fixed telecom networks. They saw the upcoming roll out of 5G as a real opportunity to help telecom players deal with the integration of their existing legacy networks and the new 5G technology.
As the cable companies pulled back from the table after having gorged themselves on infrastructure investments, Casa switched its focus to developing products for the new 5G standard. This past summer, they spent a big chunk of money to acquire an Australian firm that helped them round out their 5G offering. A recent award at the World Broadband Forum for best new 5G technology for their converged core solution shows that they might just be on to something.
Betting On The People
I have to admit here that all the tech jargon makes my head ache after a while. I can parrot back phrases like "converged core solution" but only have a foggy notion of what that actually means. But I trust that there are a lot of smart people working at this company that do know what it means and that given the chance, there is a decent likelihood they will come up with something pretty good.
This is a company populated by engineers. In fact, they say that 86% of their employees are either engineers or technical specialists. The company spends a whopping $100 million or so at current run rates on research and development every year. Considering that you can buy the whole company right now for around $300 million, you seem to be getting an awful lot of R&D bang for your buck. For your $300 million purchase price, you get an army of over 1000 very smart people working for you to develop the latest, greatest internet infrastructure technology.
Since the company is currently losing a modest amount of money, a simple trailing p:e ratio doesn't tell us anything. A p:pe ratio using peak earnings from a couple of years ago is a promising indicator, but the company admits that cable spending is unlikely to fully recover, and they are going to have to find growth elsewhere, with 5G being one of their principal targets. So looking for some additional confirmation that this stock offered enough value to make the risk worthwhile, I sorted my universe of US listed stocks to pick out all the technology companies listed on one of the three main exchanges. I then used the "stock data" feature in excel to pull up the number of employees at each company and calculated the market cap per employee. The median market cap per employee in the technology sector was $867 000. By comparison, the market cap per employee at Casa Systems is $277 000. This means I am basically buying a team of crack engineers at 1/3 the going market rate. Not an iron clad guarantee of value by any means but it helps to add a bit of extra weight to the value argument.
Conclusion
Obviously this is a high risk investment. The company is losing money right now, it has taken on some debt to help buy its way into the 5G arena and there is no guarantee that its technology investments will bear fruit down the road. But it has a solid track record of innovation behind it, an offering that has proven its worth to the cable industry in the past and may still generate significant sales in the future and a growing suite of products aimed at the coming 5G paradigm shift. On a variety of wonky measures, it looks cheap to me at the current price and I've added this to my growing list of high risk, high reward opportunities.
Full Disclosure: I own shares in Casa Systems.