In for a penny, in for a pound. I go all-in on the clothing sector with the purchase of G-III Apparel.

G-III Apparel – GIII.NASDAQ
April 3, 2020
Share Price: $5.68
Number Of Shares: 48 009 346
Market Cap: $272 million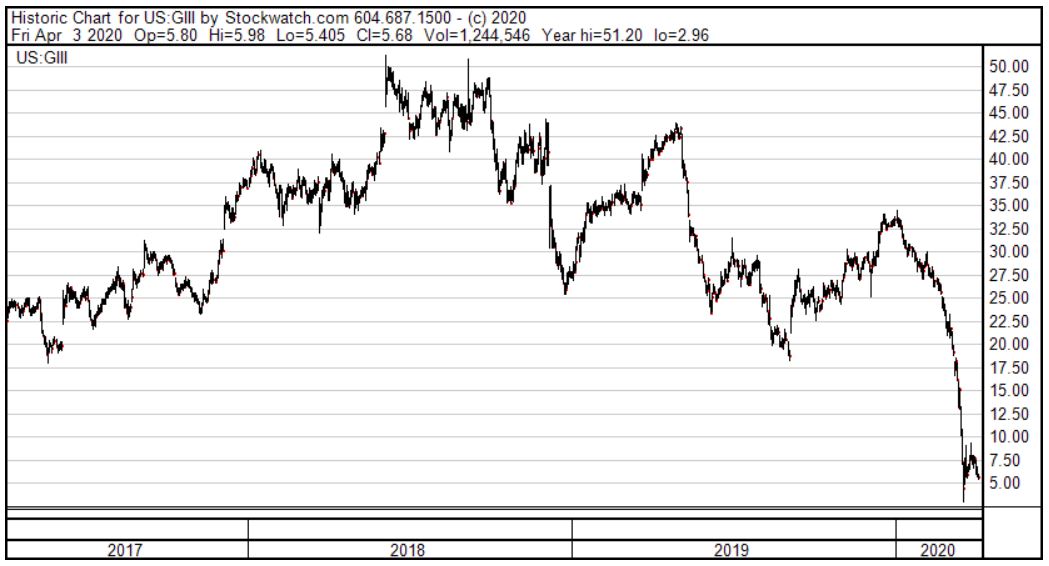 I've been going through the recently released year-end results for the US markets this week. This is something I do every year around this time. This year, the exercise happened to coincide with one of the most chaotic markets of my career.
I was hoping to find something defensive. Maybe a good technology stock or a friendly neighbourhood grocer. Something I could snuggle up with by the fire on a cold and rainy April afternoon. At the very least, maybe something outside the retail space. An airline perhaps or a chain of fast food restaurants. Perhaps there might be some value to be found in the big cruise lines. Oil? Sadly, I came up empty. Unbelievably, the market still isn't exactly cheap. Anything not in the direct line of fire of this coronavirus is still on the expensive side. And many of the hardest hit sectors were ones that were already carrying a lot of debt to begin with. This puts them in an even more precarious position now.
Instead what I found was yet another bloody retail apparel company. It does not escape my attention that I already own an inordinate number of these things. Hibbett, Tilly's, Francesca's and Gildan are all in the apparel game. Like so much of the economy, these companies are all basically shut down at this point. When this virus levels off, will we find our way back to the malls to pick up a new pair of Converse sneakers? A Ralph Lauren polo top? A pair of Calvin Klein boxers? The market is saying no. Or if we do, it will take us long enough that the whole economy will have collapsed and there will be no mall left to go to and no one left with any money to spend there.
One part of me is saying that this dire outcome is an all-too-real possibility. That I should be moving all my money to cash if I'm to have any hope of retaining what dwindling resources I have left. For better or worse, though, I'm not going to invest that way. I'm going to continue to invest the way I've always invested; searching out out-of-favour or overlooked companies that have a reasonably strong balance sheet, some potential avenues for future growth and are trading at far below market prices. When I find something like that, I'm going to buy it. And right now, I seem to be finding a lot of companies that fit that profile in the apparel sector.
G-III Apparel has a p:e ratio that is hard to ignore. Using the most recently completed year's earnings per share of $3.30 and the current share price of $5.68, gives you a p:e of 1.7. That's not a typo. And those aren't earnings that have been pumped up by any one-time gains either. In the normal run of events, an investment in this company would be expected to pay for itself in under 2 years. To sweeten the pot even more, the company is trading at only half of its tangible book value. Depending on what time of year you're looking at it, debt levels can range between one and four times earnings, so the company runs a reasonably tidy ship in that regard too.
There are very few times in my investment career where I have seen numbers like that. Despite my serious trepidation about what is about to befall the retail sector and the economy in general, I just couldn't pass up that kind of deal. I'm either being naively optimistic here and recklessly concentrating myself in a single sector or else I am being cool-headed and rational and am taking advantage of a very unique market opportunity when it presents itself. I'm going to go with the latter and today I added G-III Apparel to the portfolio. At the same time, I lightened up a bit on some of my other apparel stocks so as to keep my weighting in this sector to just under 30% of the overall portfolio. I haven't completely lost my mind.
G-III is a large apparel designer that has a stable of well-known brands it deals with. Names like Calvin Klein, Tommy Hilfiger, DKNY and Donna Karan. Some of these brands it owns itself, some it licenses. For the licensed brands, it works together with the licensee to design clothing that has the right look and quality for the brand. G-III is a trusted partner and has a long history with many of these famous names. Once they've come up with the design, they source the clothing from third party manufacturers and then distribute it to their retail customers.
They have over 1800 retail partners they provide apparel to, but the majority of their clothing goes to the big department store chains and warehouse clubs. Macy's, Dillard's, Nordstrom, Costco, Sam's Club and TJ Maxx are some of their larger clients. They also sell to Amazon and to the online stores their brands and customers operate, so they are not completely dependent on old-line retail. Nonetheless, their reliance on the department store model is one of my concerns with this stock.
Before this global pandemic blew up, the company was performing reasonably well. Sales were growing at a modest pace, and they were earning a healthy profit. What's more, you could argue that their earnings were understated. While their wholesale operations are their bread and butter, they also operate a smaller chain of retail outlets under the Wilson's Leather and GH Bass banners. These stores have not been doing well for the past few years and management has stated their intention to try to shut them down as quickly as possible so that the losses from their retail division stop bringing down the healthy profits of their wholesale operations. Without the drag from their retail division, the company would be making over $4 a share. At the current share price of $5 and change, you can appreciate the incredible potential for investors here, provided the company can survive long enough to realise those profits.
Whether or not it does survive is going to come down to how well it can manage its way through the difficult times ahead. They have a reasonably robust balance sheet. Not amazing, but hopefully robust enough to withstand a year or two of losses, assuming that's what we're in for. Like many companies, they drew down their line of credit as soon as they saw the writing on the wall. This gives them a war chest of $800 million they can use to try to guide their ship through the current storm. They've shut down their retail stores for the time being and will be operating their wholesale operations on a skeleton crew. There are going to be some potential pitfalls they have to deal with. The bankruptcy of one or more of their department store customers would deal a lasting blow to their future sales and earnings potential not to mention possibly saddling them with large uncollectible accounts receivable.
G-III is far from a sure thing. It's an aggressive play on a future that is not quite as dire as some are predicting. And piled on top of my other consumer discretionary stocks it is a somewhat ballsy move. Or maybe just stupid.
With the recent sale of Urban Outfitters at seven times earnings which I've now traded in for G-III at just under two times earnings, I continue to ratchet down the average p:e ratio of the portfolio (and thereby ratchet up the earnings yield) so that when and if the tide does turn, the portfolio will be positioned for maximal lift. 
Full Disclosure: I own shares in G-III Apparel, Hibbett Sports, Tilly's inc., Francescas Holdings and Gildan Activewear.