I'm hoping to turn weight loss into portfolio gains with this rapidly expanding multi-level marketing company.
Medifast – MED.NYSE
September 07, 2019
Share Price: $100.83 USD
Number Of Shares: 11 836 334
Market Cap: $1.2 billion USD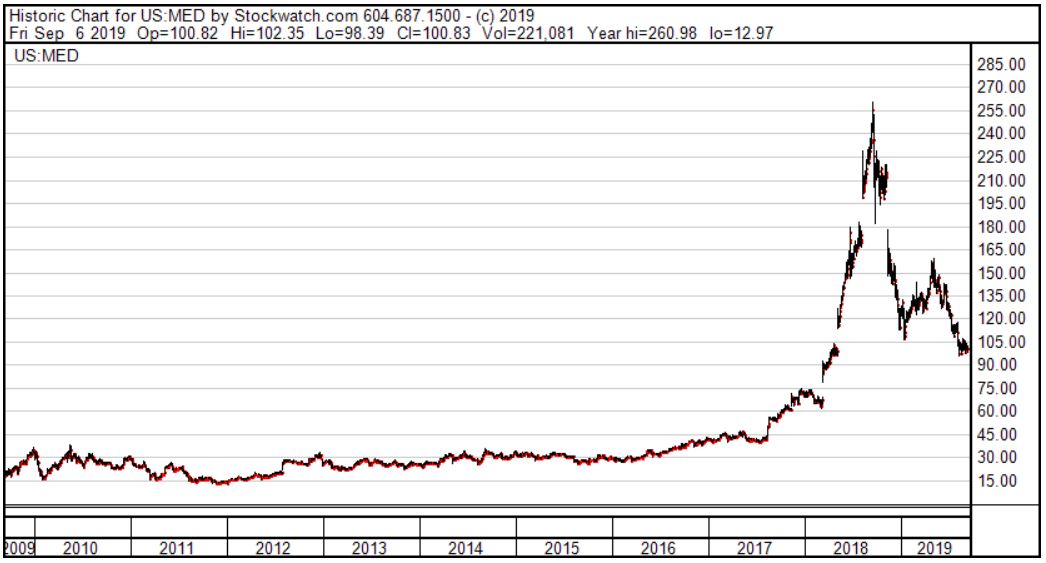 Company website: www.medifast1.com
Summary financial data: Morningstar
Eat Your Greens
Medifast is a multi-level marketing company that offers weight loss management solutions through its growing network of home-based coaches. These coaches are typically former clients themselves who have seen positive results from the program and are excited to spread the Medifast message to others. The company says it likes to empower people to transform their lives "one healthy habit at a time."
Beyond the marketing slogans, there appears to be something real here that is resonating with consumers. Medifast has been around for a long time. After a run of strong growth in the 2000's, the company seemed to run out of steam in the earlier part of this decade. Sales and earnings drifted sideways for a number of years. Then, in 2016, they re-invigorated their brand with a new concept and a new product line called OPTAVIA. They shut down their physical weight loss centers to focus all of their efforts on expanding their home-based coaching network, backed up by an extensive offering of weight loss foods delivered to their customers' doorsteps.
These specially formulated weight loss foods are the company's bread and butter. The company makes its money by selling specially prepared, pre-packaged, nutritionally balanced, portion-controlled weight loss foods to the customers who have enrolled in its programs. Their program involves eating 6 smaller meals per day. 3 to 5 of those they want to be their own OPTAVIA products while the remaining 1-3 meals are supposed to be "lean and green" home-cooked meals prepared with guidance from the Medifast home-based coaches.
Comments I found online were generally quite positive. While customers often complained initially about the taste of the OPTAVIA food, they say they got used to the taste after a while and even grew to crave some of the foods. Offerings include things like brownies, pretzels, cereal bars, shakes, smoothies and soups. While this list is by no means the epitome of healthy eating, the company does get snaps for its emphasis on the home-cooked "lean and green" portion of its meal plan, incorporating lean protein and fresh vegetables.
The aim of the diet is careful calorie control combined with developing longer term healthy eating habits that can be sustained once the weight loss portion of the program is finished. Judging by the online comments and the rapid growth in the company's sales and number of associates, they must be doing something right.
Here are a pair of random comments I found online…
I have been a dieter all my life but this program is much more than a diet. Yes, I am eating shakes, bars, mashed potato, chili, oatmeal, pudding, soups, pasta, etc.) to get me through the day but I cook one lean and green meal a day. This has been the biggest win for me in this program. I have learned how to cook healthy meals which is something I never did well on other programs. The support on this program is amazing! I love having a health coach as I feel that was a huge reason why I succeeded on this program. This program will not be for everyone but I have been on this program since June 1 of last year and I am down 117lbs and counting.
I lost 48.5 pounds in 4 months and am now in Transition and plan to become a Health Coach, immediately. I loved the bars, soup, potatoes, brownies and other items and will miss them when I finish Transition. I probably will keep some things for emergencies. I began it because of back pain and want to Coach to help others reach their healthy weight and to stay in COMMUNITY so the weight will continually stay off because of that Pay-it-Forward accountability. It's a mindset adjustment and lifetime commitment. I believe people put weight back on because they don't stay involved with others in this endeavor. 
Since this company launched the new OPTAVIA program 3 years ago, sales have more than doubled and earnings have more than tripled. The company's stated goal is to continue doubling its sales every 3 to 4 years which it believes it can do for the "foreseeable future". Their growth stems from the growth in their home coaching network. Success begets success as former clients become coaches themselves and enroll a fresh new set of clients. In the past year, the number of coaches has swelled from 19 700 to 30 600.
Peter Lynch said he loved to buy boring companies. If they did something mildly distasteful, even better. Medifast could fall into the mildly distasteful category. The line between "multi-level marketer" and pyramid scheme can be difficult to see sometimes. The company admits that it is at the mercy of government regulation which is often vague and ill-defined itself. Coaches have an incentive to enroll other coaches as they then get a cut of their recruits' sales. These sorts of companies have run afoul of market regulators in the past. Medifast says it has to be sure not to over promise and under deliver on the profit projections it makes to its new coaches. Encouragingly, the company has been around for a long time. This is it's second kick at the can with the new OPTAVIA line replacing the old Medifast program. When the old program was wound down, sales and earnings did not plummet; they merely flat-lined for a time. I find that reassuring as well.
At the current share price, the company sports a trailing p:e ratio of 17. The balance sheet is strong with cash in the bank. The company is extremely asset light, meaning it has the potential to grow very quickly without any capital restraints. While most of their existing sales associates are in the US, they have started to make initial forays into the Asian market where direct selling is very big. Given their rapid pace of recent expansion in a highly uncertain market environment, the stock appears to be quite reasonably priced. If this company's growth trajectory continues, the share price should respond in kind.
Full disclosure: I own shares in Medifast.