A balance sheet stuffed to the brim with cash encourages me to tempt fate and add yet another retailer to the portfolio even as we head into what is looking like a possible retail Armageddon.
Tilly's Inc. – TLYS.NYSE
March 17, 2020
Share Price: $4.07
Number Of Shares: 29 678 700
Market Cap: $121 million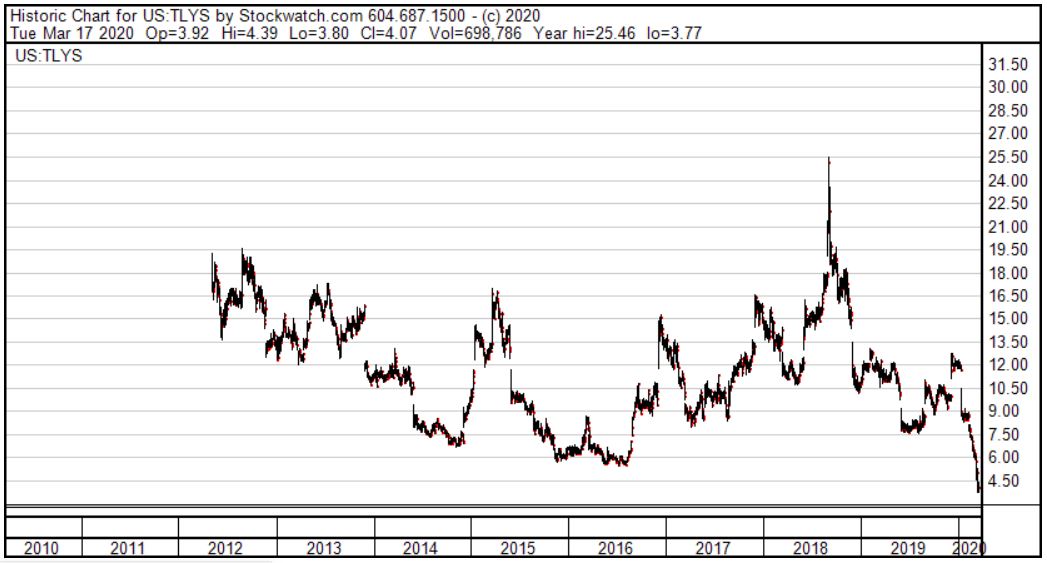 Retail Comes To A Shuddering Halt
The economy is about to be hit by a sledgehammer. As we try desperately to slow down the relentless march of this virus, drastically limiting person to person contact seems like the best possible strategy. I whole-heartedly endorse this course of action, but it does carry with it an unfortunate side effect. Assuming a total lockdown, followed by a very slow and tentative return to normalcy, entire sectors of the economy are about to experience an unprecedented level of stress. Some, maybe many, companies are not going to survive. One of the sectors hardest hit seems sure to be retail.
Old line retailers were already reeling from the relentless shift towards e-commerce. There were too many stores and too few real-life shoppers. This trend is about to get a whole lot worse. These companies are not equipped to deal with a complete shutdown like the one we are likely facing. They have high fixed costs (rent and employee wages) and often narrow profit margins. They rely on the daily turnover of inventory to keep the lights on. In normal times, a sudden drop in same store sales of a few percent can be enough to send a stock down 10%. What will a 100% drop in same store sales do? We're about to find out. Some of these companies aren't going to make it. The ones that do may face an enfeebled consumer who is decidedly poorer and even more uninclined to venture beyond the comforting glow of their computer screen than they were before the crisis.
In fact, the outlook for this sector is so grim that I naturally began to wonder if there might be some hidden gems hiding amongst the wreckage.
I focused my search on the companies with the strongest balance sheets. I wanted a company that I thought had the financial muscle to weather the worst of the storm and come out intact on the other side. Out of a list of about 120 retailers, I narrowed in on the 38 that had more cash than debt on their balance sheets. Out of this list, one stood head and shoulders above the rest.
Tilly's owns and operates a chain of 240 retail stores spread across 30 states. They sell apparel, footwear and accessories to a younger demographic. Their stores can be found in shopping malls, outlet centers and street fronts. The company has been quiet over the past 6 years. Sales, earnings and store count have stayed fairly stable as they deal with the dramatic shift in consumer shopping behavior. They have been cautious not to spend money expanding their physical presence too much given the weak retail environment, but have made investments in their online business and now derive 16% of their total revenue from online sales.
In the year just ended, the company made about 76 cents per share. I managed to pick up my shares earlier today at a little over $4.00. That is down 67% from the start of the year. At that price, the stock has a p:e of 5.3 and is trading well under its tangible book value. The real kicker to this story, though, is their whopping great hoard of cash. The company has $110 million in cash and cash equivalents sitting in their bank account. This works out to $3.71 per share. In any normal market, this would be a screaming buy. You can buy the stock for just a bit over the value of its cash and get the rest of the company (a well-run, profitable company) essentially for free.
Obviously, though, these aren't normal times. I understand why the market is discounting this company so severely. And the market could be right. By my rough calculations, if store traffic fell to zero, this company would burn through its cash in about 6 months. After that, if shell-shocked customers were very slow to return to the shopping mall, earnings could take a big hit and stay down for a long time. That supposed p:e of 5 is not going to look as attractive if they burn through their cash and earnings take a nosedive. But I think this is an awfully pessimistic take on things. It's easy to get carried away right now imagining various disaster scenarios. But if you let yourself imagine a more hopeful future, then this company at this price, could end up looking like a real bargain once the storm clouds eventually clear.
Full Disclosure: I own shares in Tilly's Inc.