People are always going to want a clean pair of underwear. With that in mind, I took advantage of the recent market sell-off to add this global manufacturing powerhouse to my portfolio.
Gildan Activewear – GIL.TSX
March 23, 2020
Share Price: $15.08
Number Of Shares: 198 780 000
Market Cap: $3.0 billion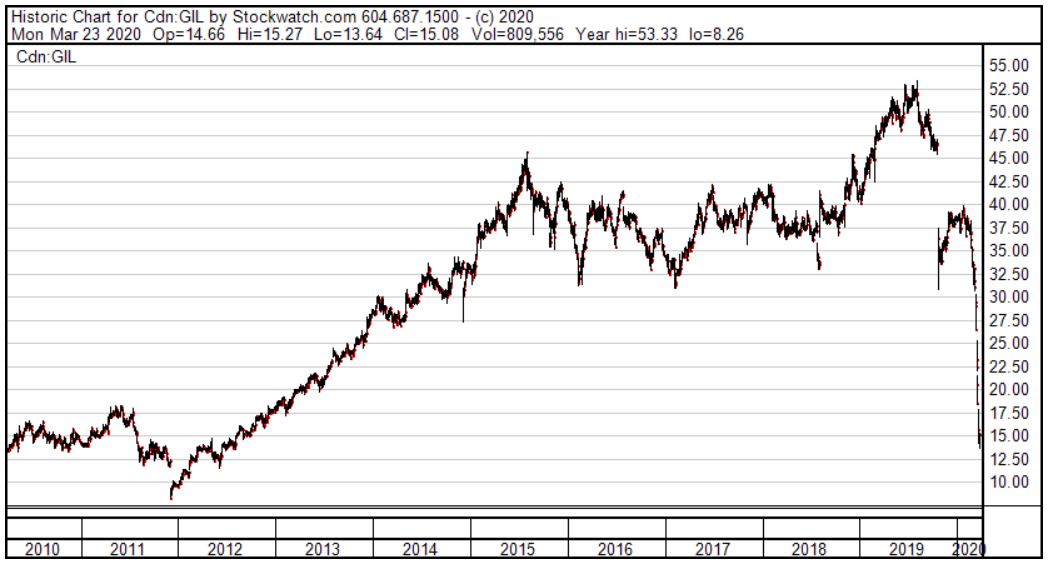 Plain White T's
There's a pretty good chance if you check your closet you'll find at least one T-shirt made by Gildan. If you're like me and your wardrobe consists almost entirely of T-shirts, you'll find a lot more than one. This morning, I took advantage of the recent market mayhem to add Gildan Activewear to my portfolio at what looks like a very attractive price.
From its inception 35 years ago, this company has grown into one of the largest manufacturers of T-shirts, socks, underwear and pantyhose in the world. They are a large scale, vertically integrated producer that does everything from spinning the yarn to manufacturing the textiles, sewing the finished products and shipping them out through company-owned distribution centers. The bulk of their sales are in the United States with the remainder in Canada and Europe. Their manufacturing facilities are mostly split between the United States and Central America and they take great pride in highlighting their high standards for social and environmental responsibility. Their focus on best practices and sustainability in this area is, in fact, one of the key advantages that helps set them apart from some of their global competitors.
Gildan has been a great Canadian success story and has often been a stock market favourite, trading with a trailing p:e ratio over 20. I've looked at it with longing in the past but it has never fallen within reach. A combination of the recent market collapse and some company-specific issues have finally brought it down to a level I feel comfortable buying in at.
The company has been facing some challenges recently as shifting consumer shopping behavior, trade difficulties and consumer fatigue have led to a very competitive landscape. Earnings have flat-lined for the last few years and even before this market meltdown, the share price was showing some definite signs of weakness.
The recent market collapse and the rapidly darkening economic outlook exacerbated this decline and the share price has been plumbing new depths. The end result: I managed to stake my position this morning at an average share price of around $15 and a very compelling trailing p:e ratio of 6.
At this price, I am more than willing to look past some of their near-term challenges. The company has been very active over the past year fine tuning its operations, consolidating its manufacturing, getting rid of less profitable lines of business and generally optimizing its operations to the fullest extent possible. They call this their "Back to Basics" strategy and they are hopeful that it will clear the way for significant future growth. They are seriously eyeing a concerted push into Europe which presently makes up only 10% of their annual sales and have plans to increase their manufacturing capacity to enable this. They are also reacting to the shift in consumer buying from physical, to online. New technology is bringing down the cost of digital printing and enabling a new breed of custom, online T-shirt designers and they stand ready to supply these designers with all the blank T-shirts they can use. The company has invested heavily in state-of-the-art manufacturing facilities that let them offer the kind of high-performance features that customers are demanding. Stretch fabrics, anti-microbial capability, wicking technology and more contoured, fitted sewing styles are some of the new trends that the company is embracing.
While the future is a big question mark right now, this company should have the wherewithal to withstand the coming storm. They have been profitable for every one of the last 20 years and they have kept their debt levels low even while they bought back shares and reinvested in their manufacturing technology. Investors are understandably a little apprehensive about the near-term outlook. During the last recession, earnings did take a bit of a hit and this recession could well prove to be more painful than the last. But shares are now trading at only 6 times last year's earnings. At that price, I feel good about welcoming this company into the fold and feel that its size, track record and reasonably stable end market provide some nice defensive characteristics while the low valuation also provides the possibility for some fireworks if the market does an abrupt about-face.
Full Disclosure: I own shares in Gildan Activewear.