Showing up fashionably late to the pot party.
The Valens Company  –  VLNS.TSXV
March 26, 2020
Share Price: $2.35
Number Of Shares: 125 504 096
Market Cap: $295 million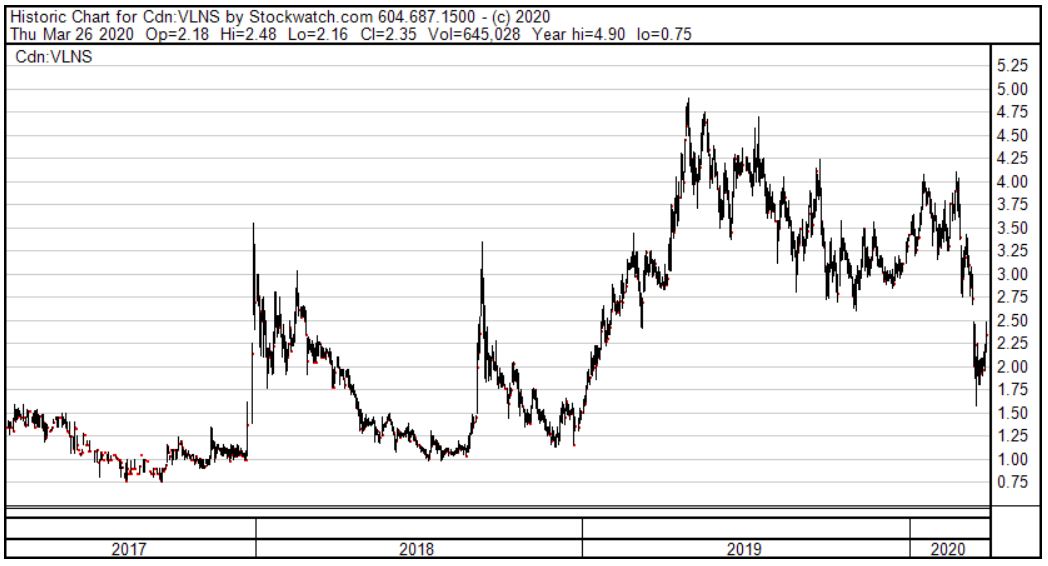 Cannabis 2.0
Two years ago, the marijuana mania was in full swing. The coming legalization of pot in Canada had investors seeing dollar signs as they poured into the sector. Everyone knew someone who knew someone who had just paid off their mortgage with their latest pot stock winnings. The assumption was that these pot companies would be printing money as Canadians lined up around the block to get their legally sanctioned buzz.
Sadly, the reality didn't quite live up to the hype. Too much pot and too few pot-smoking Canadians. A year and a half after marijuana was officially legalized in the country, most of the big players have yet to turn a profit. Share prices have come off the boil, falling by 70% or more from their peak.
But with prices dropping so dramatically, one naturally begins to wonder, is there value to be found hidden in the weeds?
I think there just might be. As a lover of real profitability, I was drawn to a small corner of the pot market that actually seems to be making money. This is the extraction sector of the market. Cannabis 2.0 is on its way and many think it will be even bigger than cannabis 1.0. I'm talking here about the legalization of edibles, pot infused beverages and other weird and wonderful pot containing products. As of last October, companies are now allowed to start putting pot into stuff. Beverages, foods, creams, lotions, tinctures and gelcaps, pretty much anything you can dream up. Companies were allowed to start submitting products to Health Canada for approval in October and, after a several month approval process, these products should be starting to hit the shelves right about now. Of course, there may be no one there to see them if we're all hiding indoors. But when we eventually emerge from our burrows, blinking in the sunlight, there may be a whole new world of cannabis infused wonders waiting for us.
The market for cannabis infused products is projected to be even larger than the market for the smokable stuff. Makes sense to me. I'd much rather sip a nice pot-infused apple cider than smoke a reefer. But to get the pot into the products, you first need to extract the THC and CBD oils from the pot plant. And for that, you either have to build the extraction facilities yourself or hire someone to do it for you. Which is where Valens comes in.
Valens burst onto the scene in April of last year with a bought deal that loaded them up with cash and let them build and fit out a pot extraction facility in Kelowna, BC. While the extraction process, from my understanding, is not rocket science, Valens nonetheless has their own proprietary methods they have developed and they pride themselves on offering the widest range of extraction modalities on the market. Business was brisk right out of the gate. They signed up many of the major pot growers to large, multi-year supply contracts and sales started to roll in. From a standing start they jumped to $8 million of revenue in Q2 of this year, $16 million in Q3 and $30 million in the recently ended Q4.
What piqued my interest, was that they are actually making money doing this. Once I made my various adjustments, I came up with earnings per share of 3.6 cents in Q3 and 6.5 cents in Q4. Considering the recent drop in the share price courtesy of the coronavirus and doing a little bit of optimistic extrapolation, the stock begins to look somewhat reasonably priced. One could even say undervalued.
As I mentioned, the extraction process does not seem to be that hard. Other companies are doing it. Medipharm Labs, also publicly traded, is one of their biggest competitors. The growers too can get in on the game and could conceivably bring the extraction process in house. To counter this, Valens is working hard to diversify and expand its services into white label manufacturing. They will not only extract the oils from the plant for you, they'll infuse these oils into a variety of products that companies can then market under their own brand names.
They credit this white label business for driving the impressive sales and earnings growth that we saw in the most recently completed fourth quarter. What's more, they continued to ink new deals as they rolled on into 2020. They are hard at work constructing a new plant beside their existing facility to handle the anticipated increased volume and at the end of last year they bought an apple cider micro-processor just outside Toronto that they hope to turn into an infused beverage manufacturing plant. In fact, in partnership with a company called Iconic Brewing, they recently launched some of the first infused beverages to hit the market, a CBD infused Iced Tea and a THC infused citrus water. These products are apparently hitting the shelves in retailers across Ontario in the coming weeks. If you are brave enough to be venturing out into the virus-laden streets and you see some, throw it in your cart and give it a try. If you're like me, you could probably benefit from a little mellowing out right about now!
In its conference call, the company is anticipating continued sales and earnings in 2020 as the "alternatives" market really picks up steam. Of course, companies always say stuff like that. These comments were made before the world started to buckle under the weight of a global pandemic. Growth and expansion plans may be put on hold for a quarter or two. But assuming we manage to make it through this rough bit, the future potential market here is exciting. The company still has a large pile of cash sitting on its balance sheet that it raised to fund its various expansion plans. This means it should have no problem weathering the viral storm.
My big concern, however, is the sustainability of its unusually high profit margins. The company is enjoying 35% net profit margins right now which seem like they might be too good to be true. There was some mention of "one off" contract wins last year which may have boosted profits. As well, I've seen reference to a growing oversupply in extracted oils the same way there has been an oversupply of weed. There may be the same sort of problems getting these pot products onto retail shelves and in front of consumers as there were with the actual smokable stuff. I can foresee bumps in the road ahead. Simply taking the latest quarter's earnings and multiplying it by four to get projected earnings of 26 cents per share may well prove to be overly optimistic. However, that's exactly what I'm doing. Doing this gives you a p:e of around 9 at the $2.20 – $2.40 share price range I purchased my shares at. This seems reasonable for a rapidly growing company and even leaves some room for a bit of disappointment on the earnings front. However, with their expansion plans and the rapidly developing market, I'm hoping that continued sales growth will offset the expected decline in profit margins.
Guessing what earnings will be next year or the year after is just that, a guess. But this company looks like it might be in the right spot at the right time. They are solidly profitable, they have a nice big pile of cash in the bank and they have multiple plans for future expansion. In this doom and gloom environment, it's nice for a change to buy into a company that is in a rapidly growing market, not a rapidly shrinking one!
Full Disclosure: I own shares in The Valens Company.