With the threat of inflation lurking in the shadows, a dose of some good old "rocks and trees" can't hurt the portfolio.

Stella-Jones – SJ
November 29, 2021
Share Price: $40.61
Number Of Shares: 64 485 647
Market Cap: $2.6 billion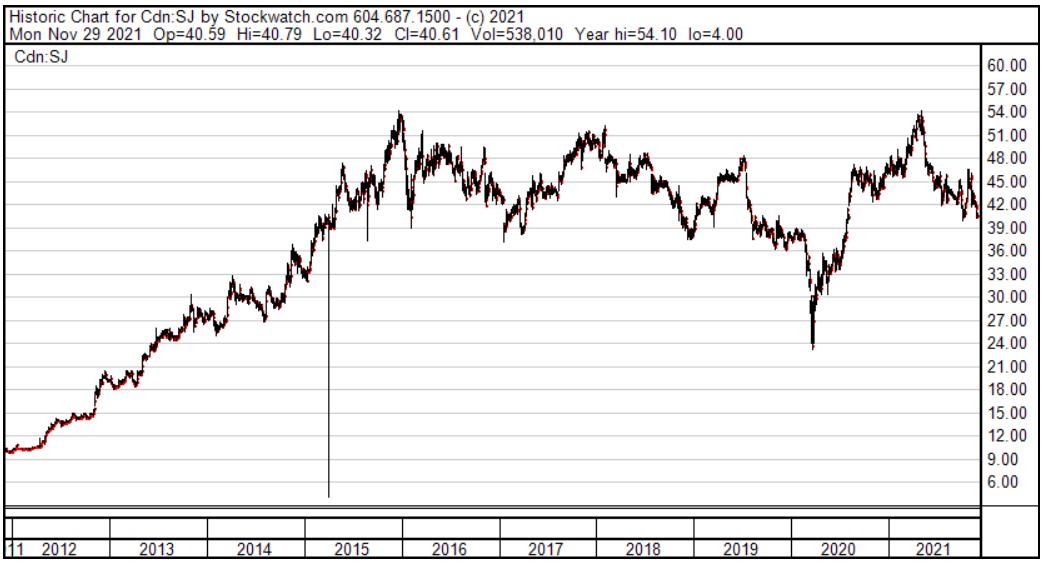 Roll Up The Rim
Everyone loves a good roll up. Take a fragmented industry, a well-executed business model, apply a disciplined acquisition strategy and economies of scale and voilà, you have the recipe for a successful roll-up play. Do it right and this can provide years of steady, compounding growth. This is the model that Stella-Jones has applied with great success over the last two decades.
Some pretty graphs emphasize the point, courtesy of my new favourite website (at least until they put it behind a paywall), TIKR.com



Rocks And Trees
The Arrogant Worms- Rocks and Trees – YouTube
Stella-Jones specializes in pressure treated wood. They have 40 wood treatment facilities and an extensive distribution network spread across North America. 70% of sales come from the US with the other 30% originating in Canada. Their operations are evenly split across three different end markets: railway ties, utility poles and residential pressure treated lumber. It was primarily the latter that sent results on a bit of a roller coaster ride this year as lumber prices first soared in the early part of the year then plummeted back down to earth. Factoring in the company's recent guidance for their fourth quarter and then making a few minor adjustments, I come up with an EPS estimate of $3.40 for the year which I think (knock wood), is sustainable.
Looking forward into next year, management believes that contributions from a couple of recent acquisitions will offset any drag from normalizing lumber prices, and are predicting that earnings next year should be roughly in line with this year. At the price I bought in at (a hair under $42), that gives me a p:e ratio of 12 which seems to offer good value for a company with a long track record of successful execution, a strong balance sheet, a coherent strategy for continued growth and a favourable industry outlook.
Three Ways To Win
I'm intrigued by the potential for the home building sector in the US. This sector was knocked flat on its back during the housing meltdown in 2008 and it has been a long, slow slog to make it back to where it was before the bust. By all accounts, the industry has been under-building for a long time and as a result there is a significant shortage of available housing stock. Add to this the fact that the large millennial generation is just now entering their prime home buying years and the flight from the urban centers that covid and the new work from home trend has engendered and the home building and renovation sector could have a surprisingly robust runway in front of it. While I've toyed with the idea of buying a US homebuilder directly, the extreme boom and bust nature of this industry gives me pause. Stella-Jones, through their pressure treated residential lumber division, offers a way to play this idea in a muted but more circumspect manner.
Their utility pole business also seems to offer the potential for positive growth as the move to renewable energy, an upgrade of the electrical grid as well as a wave of spending stemming from the new American infrastructure bill and the aforementioned strong home building market should all drive demand for new utility poles. The 5G roll out and fiber to the home are two other trends that the company mentioned could help drive demand in this division.
And while the railway tie business has been the relative laggard, growth-wise, over the last few years, the transportation bottlenecks this year and a recovery in mining and oil and gas could feed into a healthy environment for the railroad sector and could support future growth here too.
Valuation
Right now, the average small cap company is trading at a p:e of around 20. As I comb through third quarter earnings, I've been on the lookout for companies that I think can produce average growth in sales and earnings of about 7% per year, that are not burdened by excessive debt and that have no obvious skeletons in the closet. I'm looking for a company like that trading at a p:e of 12 or less, hoping that I can get in at that price and exit sometime in the future at a p:e closer to the market average of 20, giving me a nice ride up along the way.
Stella-Jones seems to meet those criteria. Growth has slowed from its previous heady pace but is still managing to come in at around the 7% per annum mark. Their debt is a modest 3 times earnings, and they have reasonable prospects for future expansion through a combination of organic growth, stock buybacks at a currently attractive share price and continued acquisition activity. (They say the industry has many family run businesses in the $30-$100 million revenue range that can continue to provide them with fresh growth fodder.)
Sweeteners
I also see the possibility of a couple of additional sweeteners that might help give this stock a helping hand towards meeting my target price. For one, this company is right on the cusp of moving into the big leagues. With a market cap of $2.6 billion it is close to being considered a large cap stock (especially in Canada's smaller market). Certainly, its steady, consistent earnings performance during the Great Financial Crisis and the more minor economic slowdowns since then would seem to qualify it for the kind of p:e premium that is often accorded to more stable, large cap companies.
Additionally, while I am not counting on it by any means, I think a pickup in growth rates is also a possibility. This company put together an impressively long string of above average growth, compounding sales and earnings at a rate of close to 20% a year from 2000 to 2016. If they could recapture some of this mojo moving forward, that too would definitely be worth a few additional p:e points.
Tree Hugging
Lots of opportunity for multiple expansion, some decent opportunities for future growth, a defensive earnings profile and a solid past track record of disciplined execution all make this a winner in my books. I've used some of the cash that I've been piling up on the sidelines to take on a strong position in this lumber baron.
Full disclosure: I own shares in Stella-Jones.